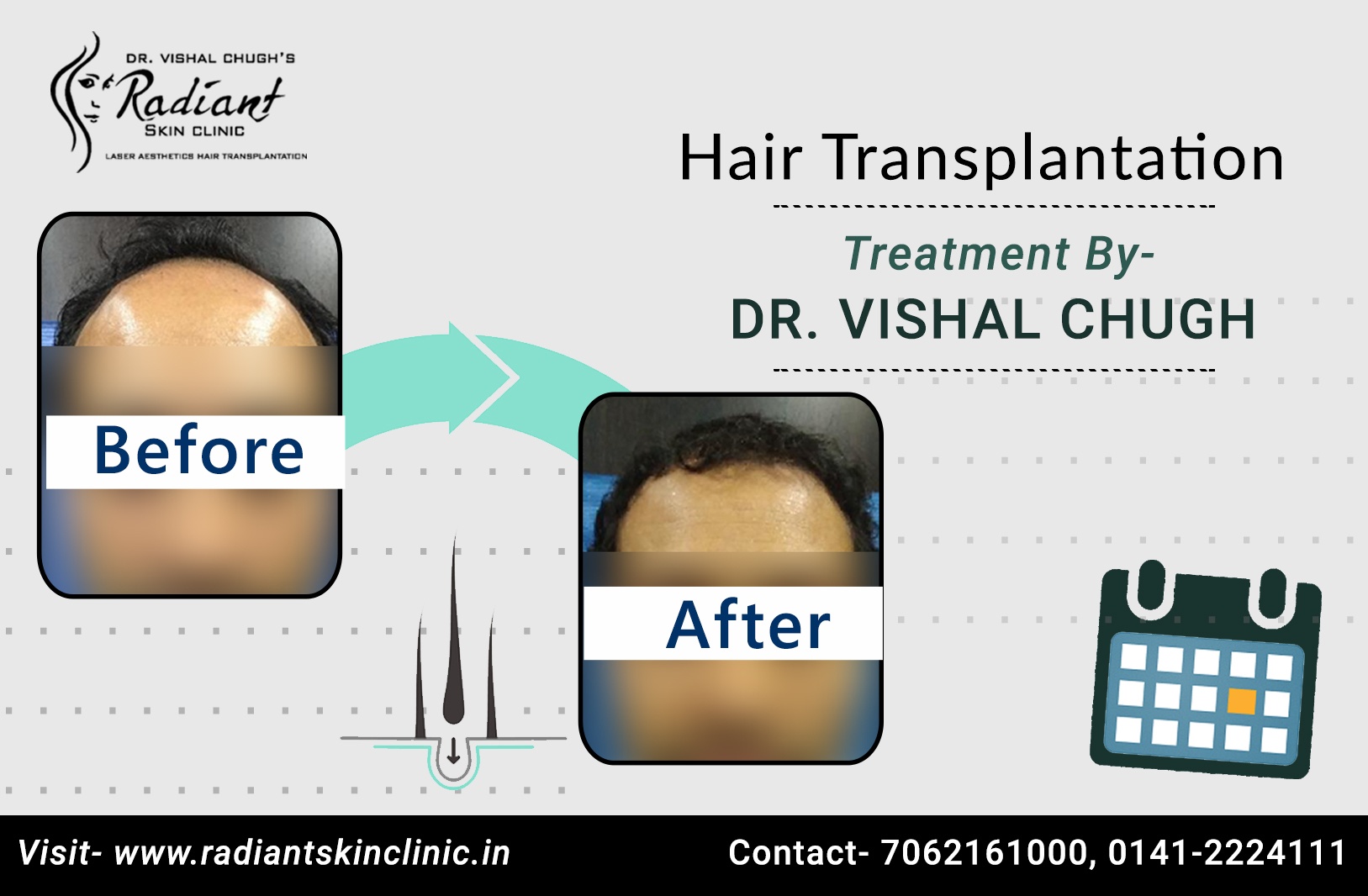 Hair Transplantation
Hair loss causing thinning of hair or baldness is a common problem for men and women alike. While in some, the hair loss treatments are effective at early detection of the problem, there are certain cases which are quite severe where they be of trivial use.
Depending on the recession of hair line from front backwards (Norwood Hamilton grading of baldness) in males, third to fifth stage of baldness and for females in second or third (Ludwig's grading)stages of baldness, Hair Transplantation is the most appropriate form of treatment.
Radiant brings you a reason to smile as you would be in safe hands with its experienced , qualified and accredited hair transplantation team.
PROCEDURE
Hair transplantation is relocation of hair from the back and sides of the scalp to the thinning or balding areas.
It is a simple outpatient surgery done under local anaesthesia which ensures naturally growing transplanted hair.
Human hair grows in tiny clusters (two to many ) called follicular units. These are pivotal in hair transplantation.
TYPES OF HAIR TRANSPLANT
FUT (Follicular Unit Transplantation)
In this process, A strip of skin with hair is removed from the donor site(back & sides of the scalp) and it is then divided micro-surgically. Follicles are then separated from the donor strip carefully. Once that is done, the grafts are inserted into the pre-cut mini and micro-slits at the recipient area of the scalp.
This is one process where large number of grafts (approximately 4000) can be inserted in a single session. The survival rate of the transplanted grafts is high and there is minimal wastage. The hair density is greater and this is a worldwide accepted procedure. Above all, this is a swift process and doesn't consume much time.
FUE (Follicular Unit Extraction)
This is more suitable for small requirement of graft insertion (around 800-1200) and is effective in tight scalps. Here individual follicular units are extracted and inserted in the recipient thinned out areas. There are no sutures or scars involved post this process though it takes time. But on the brighter side, it heals quickly and the process is less invasive causing very less pain.
Benefits of Hair Transplantation
A safe, effective and permanent solution for hair loss / baldness.
Natural looking results.
Transplanted hair can be cut, shaved or dyed.
Increased Self-confidence.
Increased Self esteem.
Facts about Hair Transplantation
Hair transplantation is the most commonly performed cosmetic procedure in men in India today.
Almost 50% of men suffer from hair loss / baldness in various degrees.
The procedure normally takes 4-6 hours to complete.
You can drive your vehicle back home after the procedure.
With the latest advances in medical science it is possible to give results that are so natural that even you will not be able to find out which is the transplanted hair.
Why Choose Radiant
The best doctors in the industry with more than 10 years of hands-on-experience.
Team of 10 technicians exclusively dedicated for Hair Transplantation
Entire team of doctors and technicians trained at one of the best institutes in the world.
Hair Transplantation Cost:-
There is no set price for Hair transplantation surgery as every single patient is different and treated on an entirely individual case-by-case basis find the price specific to you.
The price that you will be given would include everything from the procedure itself, surgeon's fee, drugs used during procedure.Only exclusions would be the cost of investigations and the medicines you have to use at home. There no hidden costs.
FAQs
What is the difference between PRP and HT?
PRP treatment is suggested when baldness in men and women is at an early stage whereas Hair Transplantation is advised only when the baldness quotient is extreme.
Is result of Hair transplantation permanent?
Yes, this is because the transplanted hairs are already-resistant to the DHT hormone that causes hair loss, they will not become thin or fall out in the future.
Can hairline be re-grown through hair transplantation?
Yes, this is the only known solution for bringing back a hairline and lost hair.
What are the side effects?
A common side effect is a haemorrhage which is noticed during or after the procedure. But this occurs when the surgeon is inexperienced. Radiant doesn't have this issue thanks to the presence of highly experienced cosmetic surgeons. There could also be other effects such as thinning of hair, itching, scarring, cysts, swelling, bleeding, pain and numbness but all these are temporary.
Mon-Sat:
11:00AM – 02:00PM,  05:00PM – 08:00PM
Sunday:  
11:00AM – 02:00PM