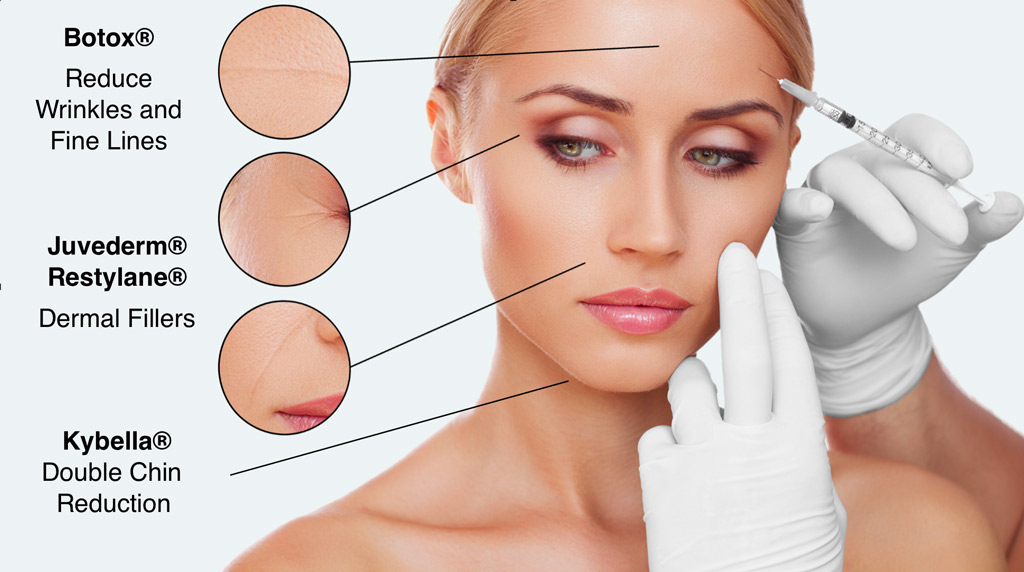 BOTOX
How Does Botox Work?
It relaxes and soften the wrinkles.
How Is a Botox Procedure Done?
Getting Botox takes only a few minutes and doesn't require anesthesia. It is injected with a fine needle into specific muscles with only minor discomfort. It generally takes three to seven days to take full effect, and it is best to avoid alcohol starting at least one week before the procedure. You should also stop taking aspirin and anti-inflammatory medications two weeks before treatment to reduce bruising.
Fillers :
Fillers are particles added to material (plastics, composite material, and concrete) to lower the consumption of more expensive binder material or to better some properties of the mixture material.
Dermal Fillers
As we age, our faces naturally lose subcutaneous fat. The facial muscles are then working closer to the skin surface, so smile lines and crow's feet become more apparent. The facial skin also stretches a bit, adding to this loss of facial volume. Other factors that affect the facial skin include sun exposure, heredity, and lifestyle.
What Are Facial Fillers?
Facial fillers are products such as collagen, hyaluronic acid and calcium hydroxyl apatite that rejuvenate facial skin by reducing or eliminating wrinkles, raising scar depressions, enhancing lips and replacing soft-tissue volume loss through facial injections. With age, our skin becomes more susceptible to wrinkles and sagging. Exposure to sun and years of muscle movement (squinting, chewing, smiling) contribute to tissue breakdown of the skin. Consult Dr. Vishal Chugh one of the best dermatologist in jaipur for Botox and Filler treatment in jaipur.
Mon-Sat:
11:00AM – 02:00PM,  05:00PM – 08:00PM
Sunday:  
11:00AM – 02:00PM