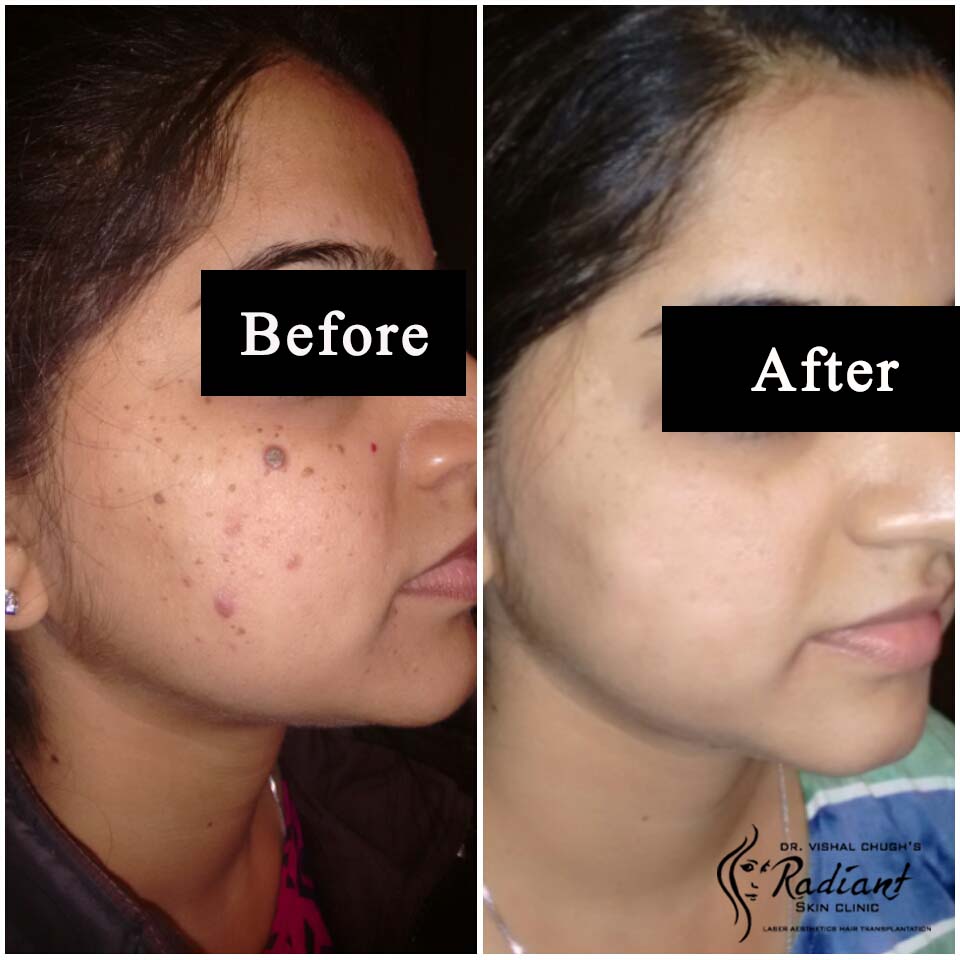 BEST ACNE SCAR TREATMENT IN JAIPUR
People are suffering from various skin problems every day. One of the common problems which most people are suffering from is acne scarring and pigmentation. The problem occurs from excessive pinching of the area where the acne scars are developed.
But with the advancement in technology, Dr. Vishal Chugh- one of the best dermatologists in Jaipur and skin specialist in Jaipur for acne provides you the treatment with the guaranteed results.
Acne is one of the most common skin diseases found during the age of adolescence, affecting an approx 80-90% of teenagers followed by blackheads, whiteheads, papules, nodules, pimples, and possibly scarring.
At Radiant Skin Clinic, we use Fractional Co2, Microneedling RF, Dermaroller, and Chemical peels.
Symptoms of Acne Scars
Most acne scars cause depressions or pits in the skin.
It can be on the back and chest.
Blackheads and whiteheads can also be included in acne.
Reddish Marks on the skin with dark spots results in acne.
The Treatment
Acne Scars Removal cannot be treated only with the medicines. You need to consult best dermatologist in Jaipur for laser treatment.
There are 4 different procedures for acne scar removal-
Fractional Co2
Microneedling RF
Dermaroller
Chemical peels
Fractional Co2 Laser
Fractional CO2 Laser is a quick, comfortable laser procedure.
Used for resurfacing and improving the overall appearance of your skin.
A fraction of your skin is treated with the laser.
The surrounding untreated tissue promotes rapid healing, and stimulates new collagen, adding firmness and resilience to the skin.
Microneedling RF
 A device with fine needles or pins creates tiny punctures in the top layer of the skin.
Results can include improved texture and firmness, as well as skin resurfacing.
Used to rejuvenate the skin
It is safe and effective for all skin types.