Platelet Rich Plasma (PRP) THERAPY :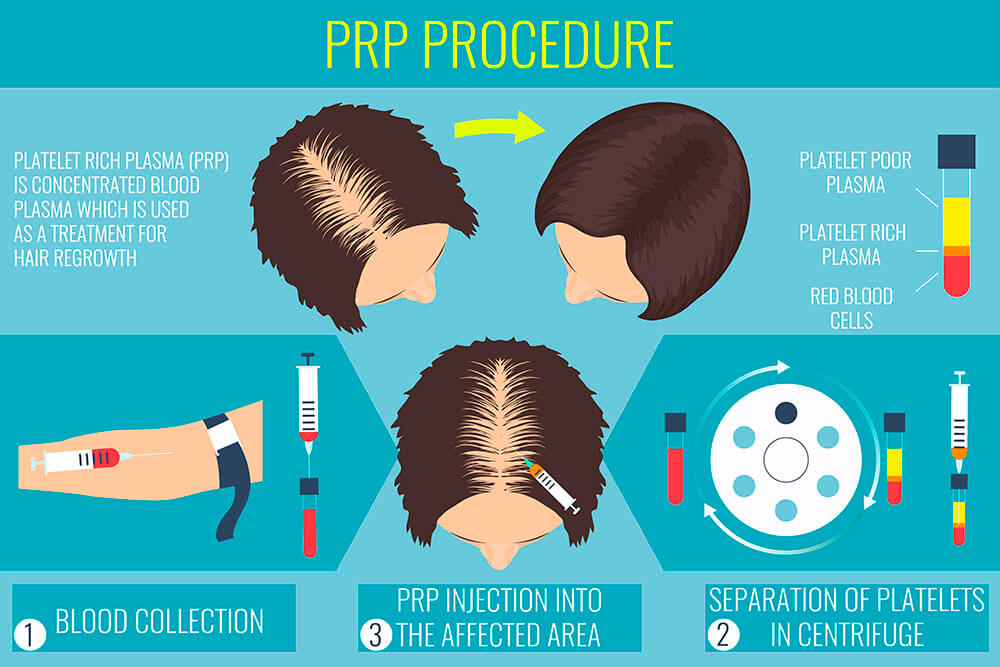 PRP THERAPY
Platelets are tiny cells in your blood that repair damaged blood vessels and stop bleeding after injuries.They are virtual powerhouses, rich in growth factors that stimulate the hair follicle stem cells to divide and thicken the miniature hairs.
Platelet rich plasma is a concentrated form of your own platelets, obtained from your blood. It is delivered right at the hair root to the stem cells of the hair in the process of miniaturization.
In combination with medical treatment in the form of lotions or foams and oral medications including dietary supplements, PRP treatments boosts re-growth and restores much more hair than was thought possible before its usage. The advancement in medical technology has recognized the immense potential of platelet rich plasma and used the power of PRP for numerous fields in health care including hair loss.
PRP therapy Treatment for Hair Loss
The urge to look good and healthy is something all of you want. What are PRP therapy  treatment good for ? A key component for that is the quantity of hair atop your head. The more thick and well nourished the hair, the better looking, positive and younger you feel. Owing to the current hectic and stressful lifestyle, hair loss and thinning has become quite common in many men and women.
Another thing which cannot be ignored is that the younger lot among both men and women are being affected with hair thinning. It is here that the PRP (Platelet Rich Plasma) therapy treatment comes as a ray of hope and plays a vital role in current therapies for hair loss. With the right procedure, the hair thinning can be reduced and natural hair growth with more vigor can be assured.
PRP thearapy for Hair Treatment for Pattern Hair Loss
For those going through genetic and patterned hair loss, PRP is recommended, as an adjuvant to medical treatment. PRP is an effective way to enhance hair re-growth especially for more stubborn areas of hair loss i.e. receding hairline and crown area. Radiant skin clinic is the best PRP hair treatment clinic in jaipur .
Suitable Clients
I have hair loss; can I go for PRP therapy treatment directly?
PRP is a medical procedure hence initial consultation with dermato-trichologist is essential before undergoing the treatment. The doctor assesses the scalp, the kind of hair loss, hair fall severity, health condition and other essential factors before deciding on the treatment.
This therapy if for everyone who has genetic hair loss or patterned baldness be it male or female. The treatment is suitable at any age depending on the type and severity of hair loss preferably but above 18 years of age.
However, the few contradictions for PRP hair fall treatment or person who cannot go through this treatment are :
Pregnant women, Lactating or breast feeding women, Clients on anticoagulant drugs, Heavy Smokers.
Mon-Sat:
11:00AM – 02:00PM,  05:00PM – 08:00PM
Sunday:  
11:00AM – 02:00PM