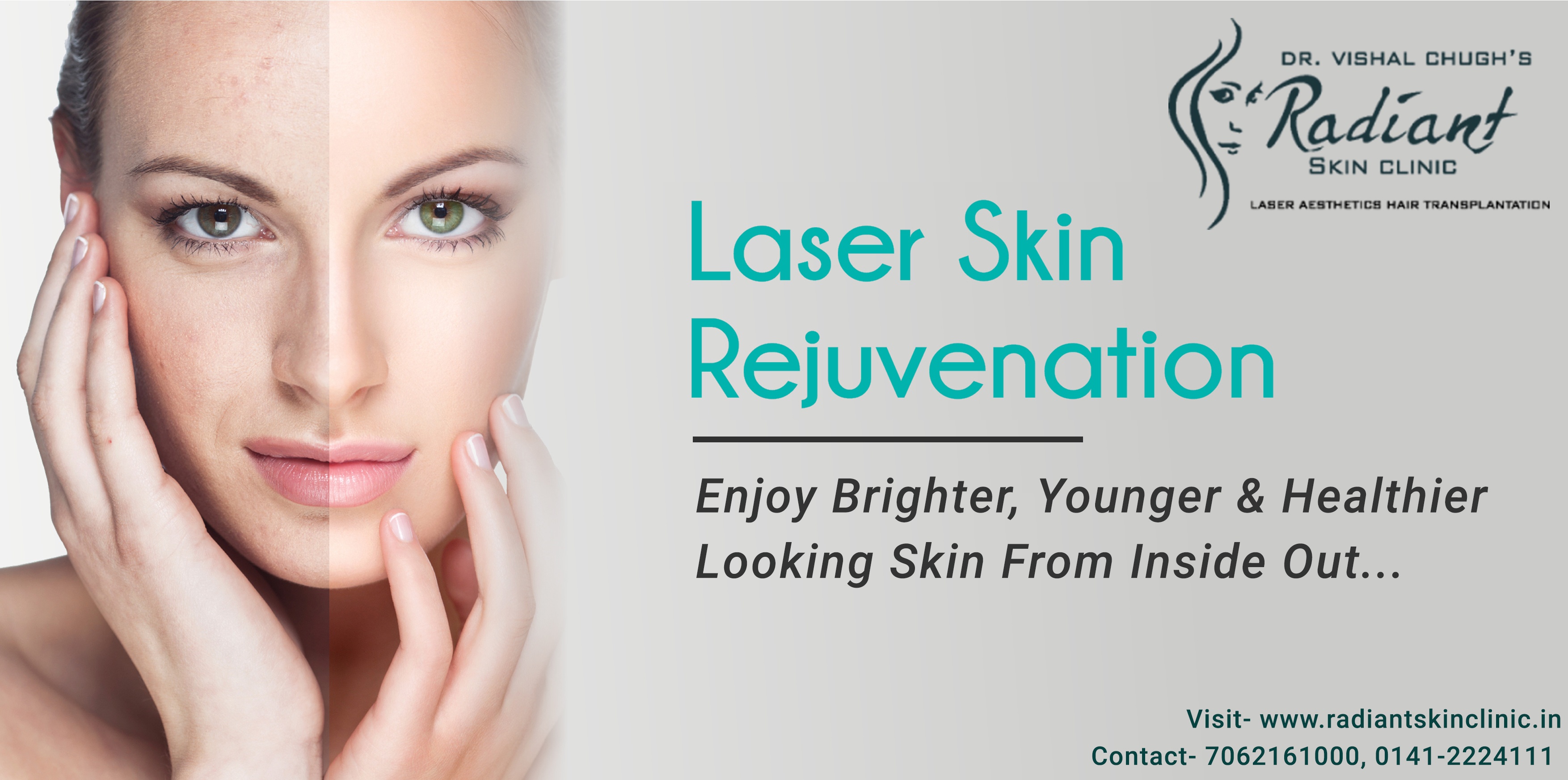 SKIN REJUVENATION
what is skin rejuvenation and how does it works ? Skin Rejuvenation, through tissue remodeling, utilizes the skin's repair mechanism to remove old damaged skin cells and replace them with abundant new healthy skin cells, especially collagen and elastin. It is, of course, collagen and elastin that determine the thickness and resilience that gives young skin its healthy appearance. For most of you this treatment will remarkably improve your skin tone as well as having a noticeable effect on fine lines and wrinkles and leave your skin smooth, soft and blemish free  Radiant skin clinic jaipur . If you value thick, firm well toned skin free of blemishes caused by ageing, sun and other environmental damage then this is for you. you can any time check the results before and after skin rejuvenation treatment 
Enjoy your skin when you are in your 20's. Many will still suffer from occasional breakouts and the first signs of fine lines will start to appear around the eyes.First signs of ageing start to become more visible. Your skin texture starts to change as your cell production begins to slow down. The production of collagen is also starting to slow down.
Signs of sun damage start to become more visible. Lines and wrinkles become more pronounced, expression lines will also start to appear on your forehead. Your skin will no longer be as tight as it used to be and your facial tone will start to dull.
The ageing process is now in high gear. There is a marked loss of volume and fullness to your skin. Lines and wrinkles are now deeper and you may start to notice pigmentation changes. Your skin will now have taken on a lighter colour due to decreased circulation and your skin tone becomes increasingly lax.
Suitable for males and females of any age and skin colour looking to achieve a thicker, more youthful, toned and vibrant looking skin free of surface irregularities and an even unblemished complexion. This is the ideal treatment for people who wish to reduce the visible effects of expression lines and wrinkles, enlarged pores, coarse skin, blemishes and other effects of ageing, together with environmental and sun damage.
Why should you take Skin rejuvenation treatment ?
To stimulate the tissue remodelling process that will naturally renew skin cells (especially collagen and elastin) in all layers of the skin.
To tone and tighten existing skin.
To thicken and firm the skin.
To refine fine lines and wrinkles.
To reverse the visible effects of accumulated sun and environmental damage.
To refine the surface of the skin so that it is visibly smoother and softer.
Mon-Sat:
11:00AM – 02:00PM,  05:00PM – 08:00PM
Sunday:  
11:00AM – 02:00PM