A chemical peel is a very effective method of exfoliating the skin and regenerating it to produce smoother and younger-looking skin. This procedure removes the top layers of the skin and the skin that grows back is smoother.
Chemical peels have been around for a long time. The reason for their longevity is because they really work and are safe when performed by an experienced dermatologist like Dr. Vishal Chugh at Radiant Skin Clinic in Jaipur (Rajasthan). He provides the Best chemical peeling treatment in Jaipur which will look at how chemical peels work and how we can use them to remove skin imperfections.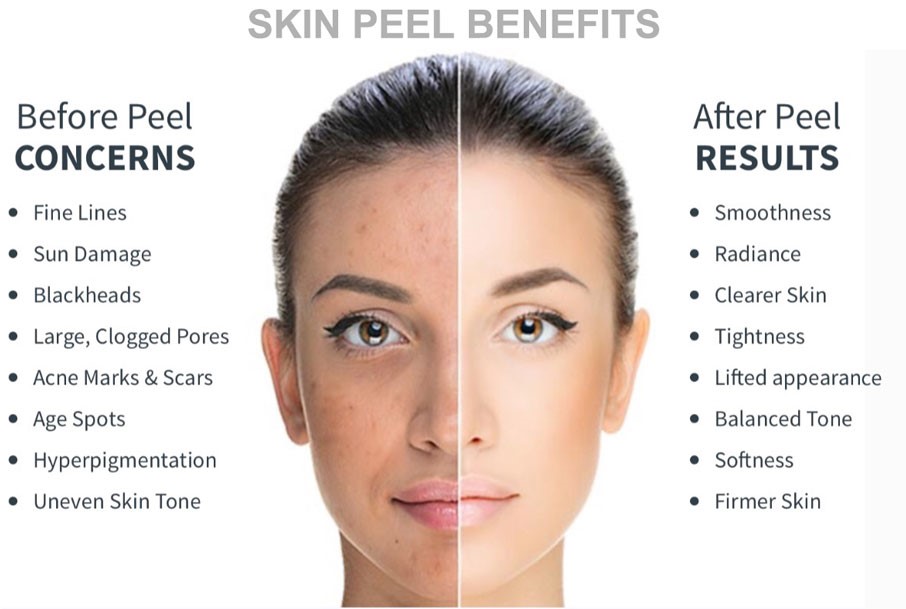 How do chemical peels work?
It involves applying a chemical solution on the top layers of the skin, thus creating a controlled burn to remove the damaged skin cells and allow new, healthy skin to grow in the skin.
What are the various types of chemical peeling?
A chemical peel is a skin-resurfacing procedure that can be used to address various skin concerns.Depending on the issues you're addressing with the procedure, you'll choose a chemical peel in one of three depths:
Light Chemical Peel
:
A light chemical peel is a treatment that removes the outermost layer of skin, called the epidermis. It is used to improve the appearance of fine wrinkles, acne, uneven skin tone and dryness. A light chemical peel is usually done every two to five weeks.
Medium Chemical Peel
:
Medium peels are the second most popular type of peel, as well as the second most intense. The initial results of a medium peel can last anywhere from 2 to 4 months, and with repeated treatments, the results can last up to 6 months or more.
Deep Chemical Peel :
A deep chemical peel removes skin cells even deeper. Your doctor might recommend one for deeper wrinkles, scars or precancerous growths. You won't need repeat procedures to get the full effect.
How to choose the right peeling based on our skin type?
A chemical peel is a cosmetic procedure that removes the top layer of skin with a chemical solution. There are many different types of chemical peeling, each with its own advantages and disadvantages. Dr Vishal Chugh at Radiant Skin Clinic Jaipur provides the best chemical peeling treatment at his clinic .
What to expect after a peel?
Chemical peeling is a way of enhancing the appearance of your skin.  Radiant Skin Clinic Jaipur provides you the best Chemical peeling treatment  to improve fine lines and wrinkles, acne scars, age spots, and rough skin texture.
 What are the side effects of chemical peeling?
The side effects of chemical peeling can range from mild to severe and may include acne, scarring and infection. As a result, it is important to understand the risk factors associated with chemical peeling prior to the procedure.But here at Radiant Skin Clinic you will get guidance from the best dermatologist doctor in jaipur  Dr Vishal Chugh . 
Conclusion: We have given all the details to help you decide if chemical peeling is right for your skin.
The results are subtle but increase with repeated treatments. After a deep chemical peel, you'll see a dramatic improvement in the look and feel of treated areas. Results may not be permanent. Over time, age and new sun damage can lead to new lines and skin color changes.